Novatools in action - Case Study
Market research was conducted by NovaTools to determine gaps in the market and potential opportunities. We used different GEO locations around Australia and came to the conclusions that the most attractive and profitable campaign for the provider would be to target honeymooners.
We determined that 114,000 in Australia got married each year and on average, spent $30-35K on their holiday. After the research was digested, we launched a campaign to track and monitor the topic of 'engagement parties' where people will be convinced to save 18-25% on their entire honeymoon package booked in advanced.
Once we start to market honeymoon to couples that we know / predict what they are going to search across conventional Channels (google, facebook and all other " off the shelf " media's ) in the near future our level of engagement was super high as well as the conversion rate.
In this case study we show the new age camping combining artificial intelligence together with machine learning using our data Maning and data brokerage feeds to leverage results by predicting a shopper before he is actively searching to buy
CONCLUSION
The advice and lessons learned from this case study will be far more insightful than people that have to spend some hundred or thousands of dollar on paid Ads. Apart from promoting the key products (flights & accommodation), we reduced cos per lead CPL dramatically.We used Nova Tools to bring relevance traffic to landing page, increase the email subscription and later sell them the deals. further more we help buying media more effectively by reporting a re marketing list of our prediction on soon to be a buyer profile.
This is a classical example of how to best leverage AI Power. People browse socially for casual fun, catching up with friends and family expressing there feelings and more…  and end up with the most relevant product without searching for it.
Landing Page created with Novatools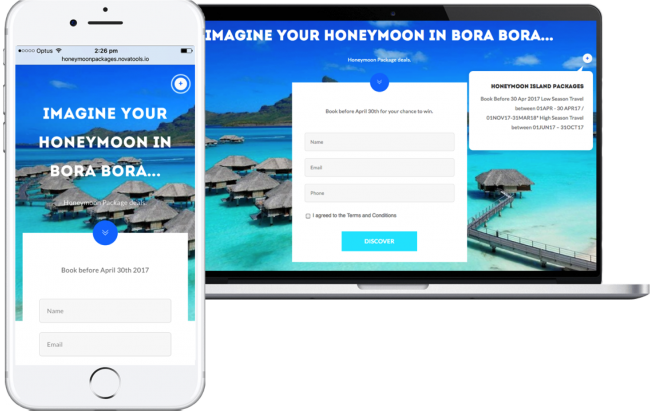 Lesson Learned #1
Using Nova Tools discover your data at hand effectively to target your ads strategically. Such as copying the success of your competitors, targeting the fans of your competitors and creating lookalike audience from existing customers and email subscribers.
Lesson Learned #2
Using Nova Tools manage your data effectively we arranged content, buying smart media by focus on predictive re marketing list provided by Nova Tools.
Lesson Learned #3
Keep your targeting narrow than being broad. Narrower audiences not only is easier to reach and are highly likely to convert. But narrow audience doesn't mean it has to be small, rather an ideal size it means engaging and spending paid adds base on "focus on predictive re marketing list provided by Nova Tools"
Interested in a Personalised Demo?