Case Studies
Case study 1 – Honeymoon
Case study 2 – Macao Government Tourism Office
Market research was conducted by NovaTools to determine gaps in the market and potential opportunities. We used different GEO locations around Australia and came to the conclusions that the most attractive and profitable campaign for the provider would be to target honeymooners.
We determined that 114,000 in Australia got married each year and on average, spent $30-35K on their holiday. After the research was digested, we launched a campaign to track and monitor the topic of 'engagement parties' where people will be convinced to save 18-25% on their entire honeymoon package booked in advanced.
Once we start to market honeymoon to couples that we know / predict what they are going to search across conventional Channels (google, facebook and all other " off the shelf " media's ) in the near future our level of engagement was super high as well as the conversion rate.
In this case study we show the new age camping combining artificial intelligence together with machine learning using our data Maning and data brokerage feeds to leverage results by predicting a shopper before he is actively searching to buy
CONCLUSION
The advice and lessons learned from this case study will be far more insightful than people that have to spend some hundred or thousands of dollar on paid Ads. Apart from promoting the key products (flights & accommodation), we reduced cos per lead CPL dramatically.We used Nova Tools to bring relevance traffic to landing page, increase the email subscription and later sell them the deals. further more we help buying media more effectively by reporting a re marketing list of our prediction on soon to be a buyer profile.
This is a classical example of how to best leverage AI Power. People browse socially for casual fun, catching up with friends and family expressing there feelings and more…  and end up with the most relevant product without searching for it.
Landing Page created with Novatools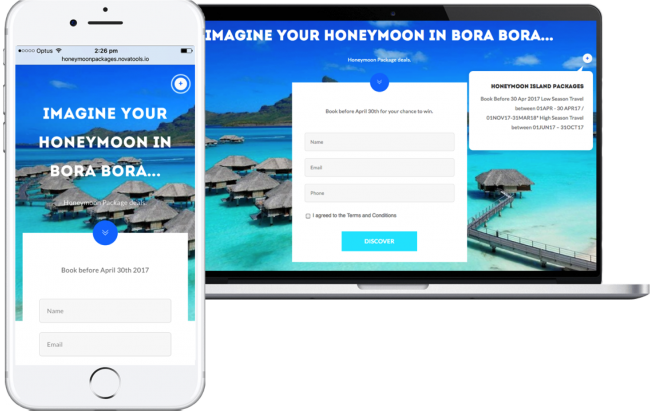 Lesson Learned #1
Using Nova Tools discover your data at hand effectively to target your ads strategically. Such as copying the success of your competitors, targeting the fans of your competitors and creating lookalike audience from existing customers and email subscribers.
Lesson Learned #2
Using Nova Tools manage your data effectively we arranged content, buying smart media by focus on predictive re marketing list provided by Nova Tools.
Lesson Learned #3
Keep your targeting narrow than being broad. Narrower audiences not only is easier to reach and are highly likely to convert. But narrow audience doesn't mean it has to be small, rather an ideal size it means engaging and spending paid adds base on "focus on predictive re marketing list provided by Nova Tools"
Macao Government Tourism Office - Case Study 2
How Macao Government Tourism Office uses Nova Tools social listening to win customers?
Macao is one of the most famous hospitality destination in the world. Macau authorities were forecasting the aggregate 2019 visitor could reach up to 38 million. In 2018, the aggregate number of visitor arrivals exceeded 35.80 million, an increase of 9.8 percent from 2017, according to official data. Macao is challenged with providing the most convenient channels of communication.
In this Nova Tools content aggregation based on social media case study we wanted to explore how Hilton Macao uses Nova Tools. Unsurprisingly, more and more Hilton guests are heading to social media to voice their concerns, require customer support, ask for recommendations, or give a praise to the staff. Hilton had to find a way to follow their customers and decided to build a social listening strategy to always be on alert and respond whenever, wherever to whomever.
On average, Hilton Hotels receives about 1.5 thousand Twitter mentions every day. Most of them are related to special offers promoted by tourist companies, advertising, news, and guests sharing pictures and tagging the location. As you see, most of these mentions do not require an immediate response.
The Positive Sentiment appears to be more common among social media users than Negative when talking about Hilton, which is good news for them. The most popular platform of discussion for them is, unsurprisingly, Twitter.
Customer support – it's not all roses and peaches: as with any big brand, there are occasional complaints. And in hospitality, complaints from clients are extremely important. You can deal with a broken toaster later, but if your living space is not in a satisfactory state, it becomes your top priority. That's why time is extremely important here.
Messages like this one are not just a customer service issue — they can potentially damage the reputation of the brand. That's why it's extremely important to respond to them as soon as possible. The disappointed guests need an immediate answer — and if they don't get one, they will be even harsher with their critique. The average response time for a brand to reply on social media is 10 hours, while the average user will only wait 4 hours.
On average, Hilton Hotels answers 3.3 tweets in one hour, and the average time between a tweet and a response equals 37.3 minutes (after analysing 872 tweets during one month). That's the power of social listening. It enables Hilton's social media team to react and engage in real time, depending only on manpower. Hilton made a decision to combine their social customer support with call centre and in-app support through Nova Tools to make their customer service experience perfect.
Hilton's guest service centre is housed within their call centre. Their social team monitors all Twitter mentions around the clock and aims to engage with guests within 30 minutes of a tweet being sent. Hilton monitors all its brands and hotel level Twitter accounts and looks for what is being said and when to engage. Even if a guest tweets about Hilton, but doesn't identify them by their handle, Hilton will pick up on the tweet and respond. Monitoring untagged mentions is extremely important.
From the very first response, Hilton aims to resolve all issues within 12 hours, which is an incredibly robust resolution timeframe given that Hilton's customer service has to communicate with hotels around the globe.
"We recently had a guest who arrived in her hotel room and tweeted a picture of her closet that was not a standard size. Her dress was pooling on the ground, and she wanted it to remain wrinkle free for her meeting the following day. We saw that tweet come through, and within an hour had her in a new room with a full size closet.
Social Marketing Insights
The feedback Hilton gets from social media not only informs their managing strategy, but also enhances their marketing campaigns. For example, while we were working on this article, Hilton launched a new marketing campaign titled Expect Better which gathered a lot of buzz for the brand. But the mentions of the campaign don't always include the official hashtag #ExpectBetter or Hilton's twitter handle. By monitoring words associated with the campaign, for example, such combination as Hilton + Macao, their social media marketing team is able to observe and analyse conversations around the campaign and evaluate its success.
Hilton Suggests
Hilton Suggest is one of the favourite subjects for a social listening case study among marketers. Why? Because it's a unique ideas that successfully uses social listening in a creative way. For Hilton, social listening is not just a helping hand to inform their marketing strategy, it is the core and essence of the social media marketing strategy.
Hilton Suggest campaign goes beyond reacting to someone else's social posts and takes initiative. The main idea behind the campaign is to aid people without any ulterior motives to make a sale. Many marketing specialists say that brands today find themselves in the age of sincerity and authenticity. Millennials and generation Z who grew up with the Internet are no longer convinced by straightforward in-your-face advertising, they want to engage and build relationships. That's exactly what Hilton Suggests does. But what is it exactly?
Hilton Suggests is a helpful concierge, available for everyone travelling to or around more than 115 cities worldwide. Launched in 2009, the Hilton Worldwide initiative is a collection of Hilton employees who volunteer their best local advice with the aim of surprising and delighting travellers on Twitter.
The unique service isn't based on customers tweeting to @HiltonSuggests and asking for recommendations. Instead, the inquiries are found strictly through social listening for anyone who's planning a trip to one of the participating cities, and not just Hilton guests. Based on thorough research powered by social listening, the team created specific listening rules to find and reach travellers who might never expect to hear from Hilton. The unique quality behind Hilton Suggest is that the people writing recommendations are not a specially formed social media team — they are regular Hilton employees (who passed extensive training, of course) who are excited to share their love for the local attractions with others. And that adds to the authenticity of the program – you don't simply google "top places to see" in Macao, you get a personal touch and recommendations tailored to your interests.
By making the first step and reaching out, Hilton is able to promote their brand to people who weren't aware of it before.
Hilton proves that social listening can help us to improve our routine activities but also create something new, which would never happen without the power of social media monitoring. What can be learned from this social listening case study?
Don't ignore your customers. If you see that they are choosing social media as a channel for communication (and they are), you should give them the way to reach you.
Let social data help you. Social listening isn't a one-time deal – the insights you get from social media can affect your company's strategy and marketing decisions. Use social listening creatively. Remember, that the whole point of social media is engagement, and social listening can give you opportunities to engage. Don't neglect them.
Main golas archives :
Increased visitors 9.8 %

Improved conversion on Media buying 38 %

Customer satisfaction improved 11 %

Club loyalty member program growth 55 %
Increased Visitors 0 9.8%
Improved conversion on media buying 0 38%
Customers satisfaction Improved 0 11%
Club loyalty member program growth 0 55%